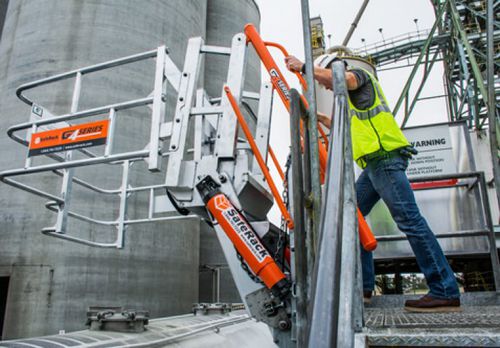 Characteristics
Type:

straight

Material:

metal

Other characteristics:

with security bars, perforated sheet metal
Description
Extra-strong tube design for safety cage mounting
Available in 24", 36", 48", 60" and 72" widths and numerous lengths
Working range of 40-degrees below and 45-degrees above horizontal
Safe, Rugged and Easy to Use. Built to articulate and self-level, SafeRack's SAS gangways are designed to accommodate varying heights of vehicles. And they're designed to last, too. With a one-piece stair design, welds are reduced and failures are virtually eliminated. Still, despite being extremely rugged, our SAS gangways are easy to use, as the spring counterbalance requires minimal effort. On top of that, the self-adjusting stair gangways can easily be retrofitted to replace your old, unsafe gangways.