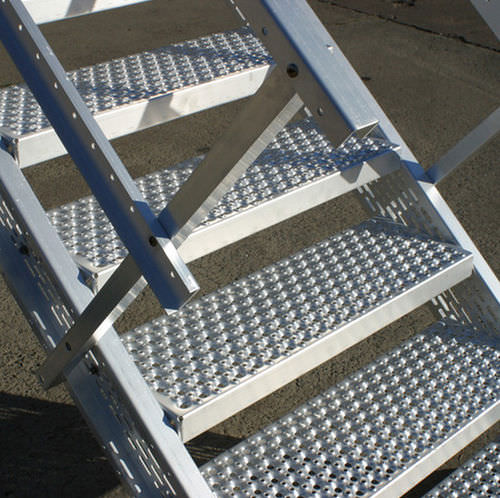 Characteristics
Type:

straight

Material:

aluminum
Description
With this construction stairway, we offer you a flexible stairway assembly kit for various heights, slopes and pitches. The stairway is completely made of aluminum (ENAW 5754) and is designed for human load.
Our steps with the anti-skip perforation Graepel Round S are bolted between two stable aluminum strings. The elongated holes in the strings and steps allow you to modify the slope of the stairway at installation. A plane surface can also be created.
The standard version has a step width of 800 mm at a passage width of 900 mm between the railings and requires clear opening dimensions of at least 1060 mm for the stairwell. Generally, our stairs consist of 15 steps and have a maximum height of 3.00 m. All required components are completely delivered. Other lengths are available on request.