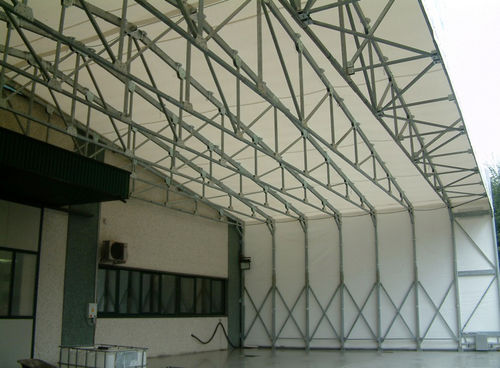 Characteristics
Function:

lightly-framed structure

Structure:

modular
Description
Mobile Tunnel metal structure made ​​of galvanized, consists of beams, columns and pantographs side.
The trusses are connected through routers that allow connections to and safe movement of the trusses that make up the cover.
The tunnel HFR normally has the two sides along the depth "p" with pantographs that compress and stretch to allow the sliding of the tunnel.
Usually the head of the tunnel is leaning against the building which then extends out into the courtyard. It can also be positioned in the middle of the square, open on all four sides-
The two front curtains are optional and must be requested when ordering the tunnel. The tunnel Sacil Hlb is ideal in all situations where you need to "catch up" space to meet the new requirements of admission of means and goods.
Usually the structure is installed without the need for building permits, but we recommend a prior approval from the competent authorities.