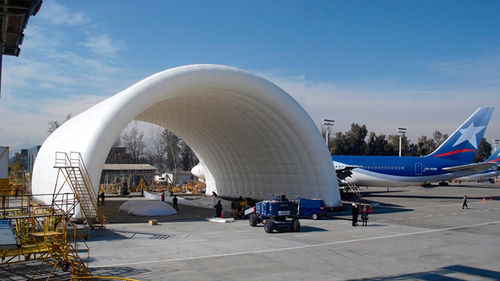 Characteristics
Function:

aviation hangar

Structure:

modular

Other characteristics:

large, inflatable
Description
BUILDAIR hangars can be used to cover any vehicle or aircraft in a safe, comfortable, flexible and economic way:
From the smallest private aviation jets or helicopters, to the largest commercial aircrafts, including military vehicles, satellites, etc.
From quick repairs on small vehicles to heavy maintenance campaigns on large commercial aircrafts.
Our hangars are 100% customizable for the fleets and specific requirements of every client: sizes (width, height, length), colours, resistance to environmental conditions (rain, wind, snow, sand storms, etc.), internal conditions (lighting, humidity, dust-clean environments), additional installations (lighting, heating, air conditioning, etc.), no foundation systems required (just shallow anchoring systems), fire resistance of the materials, etc.