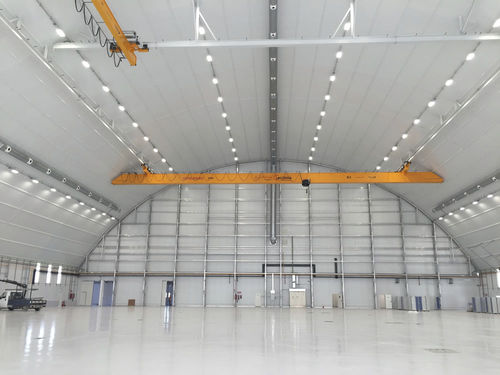 Characteristics
Function:

aviation hangar

Structure:

modular

Other characteristics:

large, aluminum
Description
The foldout hangar G50/70 has an aluminum structure which combines the lightness of all its components, accompanied by a resistance equivalent to steel, which allows to maintain all type of aircraft. The Hangar G50/70 roof is generally composed generally by plate, although there is the possibility to construct a high-resistance fabric roof, reversible in two colours.
The technology applied to all Gaptek structures products, allows construction in a reduced time. For instance, big roof with large lights minimize the transport volume and finally, the structure's weight.
GAPTEK PRODUCTS STAND OUT FOR:
Material quality: Great strength and lightness.
Assembly time: Four times faster system than conventional construction system.
Ease of transport: Gaptek buildings components can be stowed in 20 ft. ISO containers for global transport.
Ease of assembly: Gaptek buildings can be assembled by a non-specialist personnel, without heavy machinery.
Adaptability: All the components and buildings are designed by Gaptek so as to adapt to costumers needs.
Insolation: Gaptek insulation makes the buildings high energy-efficient, provides more uniform temperatures throughout the space and has a minimal recurring expense.