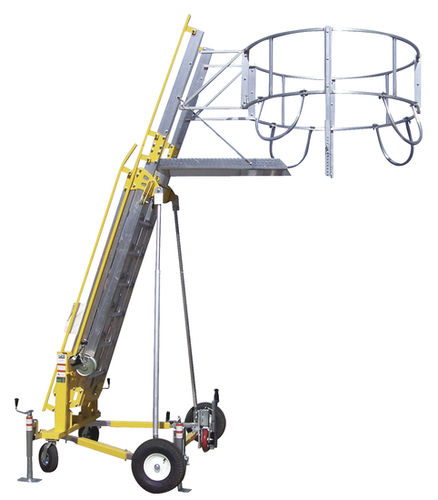 Characteristics
Material:

steel, aluminum

Type:

mobile

Product applications:

roof

Working height:

Max.: 4.1 m (13'05")

Min.: 2.7 m (8'10")
Description
The FlexiGuard™ Portable Tanker Ladder Access System is a versatile fall arrest solution for working on the top of tanker trucks. Thanks to its round or custom guard rail, the user can perform all of the required tasks with complete safety and security, without having to wear a harness. It is designed to be moved manually. DBI-SALA® has created a proven process for developing unique solutions. Whether its an existing or modified product, or an entirely new design, FlexiGuard™ always meets the requirements of your specific application. Each custom solution is driven by our customers needs and is dependent on the industry, environment and specific design constraints, including government standards. We also have numerous pre-engineered systems that may be a perfect solution to your fall protection challenge. All of our systems are extremely durable and built to last with world-class quality, materials and workmanship. They are unique solutions to unique challenges, and fall protection you can trust.
Portable Tanker Ladder Access System
Versatile system is brought to structure and the top guard rail is laid down to the tanker roof, giving then fall protection for one workers.
1.70 m diameter guardrail cage
Standard circular guardrail cage or custom rectangular cage will enable you to cove all the area you need.
Requires to lay on the tanker truck top
Designed to be anchorage point while laying down the tanker truck (not freestanding system).