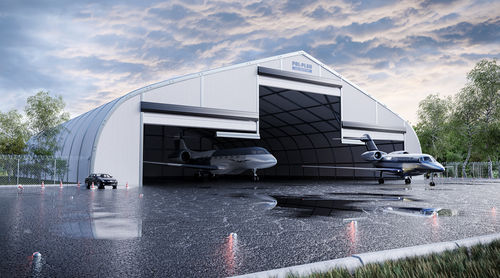 Characteristics
Function:

hangar

Structure:

modular, temporary

Other characteristics:

large, aluminum, PVC, lightweight
Description
Tensioned fabric structures perfectly function as hangars for airplanes, helicopters, gliders or gyroplanes.
Already in the basic option – with sheathing of flame-retardant PVC material they are fully functional hangars for aviation, which are a cost-effective alternative to steel and reinforced concrete structures.
Pol-Plan temporary structures with a span of up to 50 m and a height of up to 15 m, allow to garage various types of aircraft.
The lightweight aluminum structure of the hangar based on the tent hall provides strength, durability and enables fast mounting (assembly time 1 – 3 days), which makes it possible to treat the hangar as a mobile solution.
The modular design of the tent halls allows for easy expansion, adding further segments or creating hangar complexes with connectors.All materials have the required certificates.
Hangars – Clearspan shelters for aviation are ideal for aeroclubs, airports, and private clients.
NEW HANGARS WITH A SPAN OF UP TO 60 M AND A PEAK HEIGHT OF UP TO 19 M!
Thanks to the introduction of a new bent aluminum profile with dimensions of 460 x 170mm, we can offer aircraft hangars with a span of up to 60 m and a height of up to 19 m , which will be able to accommodate large aircraft.